Dear Me,

I think this was the first time I joined them for a night-out. Usually, I say no when I don't feel like not socializing especially with people I work with. When the 9-5 work sked comes to a close, I make it a point to forget about anything that relates to work. Guess you will think that my work sucks and yes, you are right.

Anyway, I said yes when they invited me. Of course, not the quick affirmative the moment the invitation was thrown to me. But I did say yes that I would join.

We (Jill, Salva, Lea, May & I) had dinner at this intimate, quaint diner located along Paseo de Roxas in Makati. It's called
Casita De Viman
. I had dined here before with some people I know from somewhere. Hehehe.

From our office corner Paseo-Ayala, we just walked our way to this anonymous place. Well, if you are not watching where you're going, I am sure you will miss it. It has no marks or signboards that will tell you where the place is. As I said, it's pretty anonymous.



It was an apartment-compound and luckily, we knocked on the right door. The place was small and there was this homey ambiance to it. Cozy and cute, in fact. There was a shelf with old books and I was tempted to read Adolf Hitler's autobio, some travel souvenirs, diplay of native, cutey bags (I was tempted, too, to check if they were for sale), a miniature Mona Lisa, minute collections of antique lamps, display of trinkets and bracelets and bohemian necklaces, nice wall decors.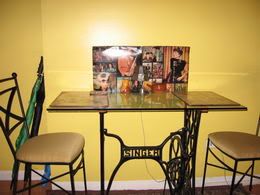 We were the first one to arrive so we were able to pick the table we like. There was nothing different with the table we chose but I saw this table for two. It was actually an old Singer sewing machine converted into a table.




Casita De Viman serves familiar dishes. Their menu consists of all-day breakfast (such as tapsiog, tocilog, american breakfast), salad & sandwiches (such as taco salad, classic club), meat & poultry (such as lechon macao, schueblig kebab), seafood & pasta (tanigue steak, seafood scampi). We ordered seafood paella, beef salpicao, grilled squid (my favorite), etc. For refreshments, I picked their refreshing Dalandan slush. While waiting for the order, I took some photos of the place and of course, the people I was with.

The food was great and I was really uber-full when the "devouring" was over. Mind you, the 'damage' was also reasonably-priced making the dining more pleasant. Hehehe.


Luckily, I had a great time joining my officemates in this new dining experience. =)

If you want to check it out, you can call Casita De Viman at t#:840-4276 and request them to fax you a copy of their menu and by which you can order in advance. Don't also forget to make a reservation since you'll never know when they will be full. The place can only house, I think, 20 people.