Dear Me,

My romantic affiliation for coffee began during my university days, err, nights.

But I only get to realize that caffeine passion while I was sitting all alone in the airport, waiting for a very much delayed weekend flight to Cebu (I had to wait for 2 and a half hours). I usually bring a book anywhere I go so as to pass up time. Unfortunately, time had quickly flipped off the pages of the book faster than a booming voice announcing my plane's arrival. I had nothing else to do. I wandered inside the airport, read any fliers and wall ads I could see, scanned the books in the mini-bookstore (I thought of buying but the prices were too exorbitant for my pocket), searched for a nice souvenir (even though I hadn't flown yet) and chatted with this cute flight attendant (he was also waiting for my plane, este, our plane).

That was how bored I was.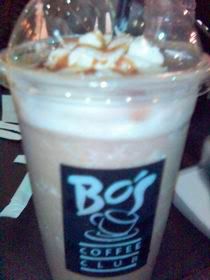 This quaint coffee shop in the far corner caught my attention. It sort of charmed me with its interior and got me enchanted with its aroma the moment I pushed the glass doors open. My senses collided with the fusion aroma of brewed coffee, latte, frappes.

I thought I would feel so alone in that place but I didn't. I could still remember everything - the first time. An old man in his sporty white get-up sitting in a corner, reading through the afternoon papers; yuppie guy in a blue suit, in serious thought as he stared blank at his laptop; a middle-aged lady attending to her 5-year old daughter; a husband and wife deep in conversation; a group of boys & girls my age, laughing about a certain comedy movie; two businessmen engaging in the pros & cons of free-market economy. It was like I was in a world where I was alone and yet I was not. There was this unknown, surreal bond amongst us inside that coffee shop.

It is really hard to explain that feeling in words. I just felt it.

I patronize
Starbucks
and
Figaro
.
Then, I discovered
Bo's Coffee Club
.
Bo's Coffee Club is Cebu's homegrown gourmet coffee chain. Owned by entrepreneur Steve Benitez, Bo's Coffee Club has already established its hold amongst coffee drinkers. It already has more than 20 branches in Metro Manila, Davao, CDO, Iloilo, Bacolod, Tagbilaran & Tacloban.

So, why Bo's? Bo is actually the nickname of Benitez. =)

It was through my curiosity & boredom combined that I learned that Bo's Coffee roasts its own beans. I also discovered that the beans are locally sourced from farmers in the North. Bo's Coffee provides assistance to these farmers by buying straight from them since market price for coffee is sold cheap. With this condition, coffee farmers don't have the desire to farm local coffee beans. Bo's Coffee is taking the initiative by buying from them and that the others will follow their example. Hopefully.

When I crave for Bo's Coffee, I will either be in any of these malls: Glorietta, Robinson's Galleria, SM North. Recently, I found my way in its newest branch in SM Mall of Asia.