Dear Me,

As I mentioned before, I was able to watch the advance screening of this new Superman movie. I was able to acquire the premiere tickets through Ms. Ada.

Like a lot of things, I am not also fond of any Superman movie. I can tolerate watching
Smallville
or any Superman movie but if you're going to ask me if I like Superman, you'll get a definite no for an answer.

I watched this one because I had the premiere tickets and I went with papi to watch this. He waited for this since last year.

So, did I like this movie,
Superman Returns
? Oh, yes! I absolutely did.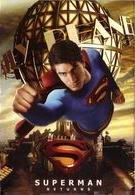 The story went off with Clark & Superman slipping back to the world they both love and yet has lost them in oblivion. Newcomer
Brandon Routh
delivered a very good act as Superman. I couldn't find a fault in his physical features as the perfectly young Superman. In fact, I saw an interview one time and that no modifications or any add-ons where added to Routh's body as he wore the Superman outfit. Well, except for toning down his somewhat big endowments from the waist down (that is, if you know what I mean). *winks*

Not totally deviating from other Superman movies, Superman Returns started with the same style of opening credits. Also noticeable is the semblance of Brandon Routh to the late Christopher Reeves. Was that coincidence?

"I'm always around." Said twice in the movie, Superman delivered the promise to Lois when she thought Superman had left for good. It sounded so sweet, a promise to be kept forever. Okay, that sounds cheesy.

Another character that stood out was that of Lex Luthor. Actually, the one thing that could only make me watch Smallville was Lex. I don't know but I have this penchant for bald guys. Portraying Lex was Kevin Spacey, depicting a striking knack for absolute wickedness.

Of course, how could I forget James Marden (Cyclops in X-Men) as Richard as Lois Lane's intimate? I didn't think he was that dense, not to know that deep inside, Lois Lane still got undeniable feelings for Superman. It was just admirable that he never (even once) confronted Lois about it. Patient, understanding and ...martyr(?)

And what about that kiddie? I was told that in all Superman material (comics, movies, etc), there was never(?) any mention of Superman having a half-human, half-superhero son. Yep. I think that's exactly the very cool twist in this movie. A sickly child who got super powers of his own. Perfect.

What I really liked was that this movie imbued the human side of Superman, the superhero.

PS. Superman and Lois Lane made love and a sickly child was born. So, how did they make love? I mean, they have to strip off their clothing, right? So, did Lois never recognize the semblance between Superman and Clark?